Located at the heart of the "Lion City of the South", Sta. Rosa, Laguna, Greenfield City is a 400-hectare self-sustaining network of residential, commercial, industrial and recreational communities. Patterned after a park-living concept, Greenfield City puts a premium on open spaces and nature and offers a refuge for those who are looking for a refreshing shift in scenery and lifestyle outside of Metro Manila.





Greenfield City
The City within a Park
Patterned after a park-living concept, Greenfield City is all about creating a refuge from the busy city Metro Manila life.
Meet the Community.
Greenfield City is home to a variety of different establishments:
There's Sta. Rosa Business Park, set to be the home of thousands of corporate and BPO offices. It is equipped with advanced world-class communication infrastructure and security and is set to be the future home of thousands of new BPO offices and corporate establishments.
Amidst the lush greenery lies Greenfield Auto Park, a 65-hectare, PEZA-registered industrial zone for a range of industries like automotive to telecommunications.
You can also enjoy an open-air shopping experience at Paseo Outlets – the country's first and largest premiere outlet. The retail park offers a pedestrian-friendly atmosphere and an open-air, lush alternative to congested malls, featuring restaurants and outlet stores.
Greenfield City's residential developments, the 30-hectare Pramana Residential Park and the 55-hectare Solen Residences are the epitome of the suburban bliss.
Residential developments such as Zadia, the five-building condominium, created with the spirit of fusing modern living with a nature-inspired or 'greenspired' lifestyle has devoted 84% of its area to tree-lined roads, parks, playgrounds and green open spaces. Another property that incorporates future-ready concepts with the comforts of suburban living is Trava, a 33- hectare premiere, tropical-themed residential development. Underground utilities, solarpowered green roofs, and use of sustainable building materials create the peaceful, sustainable haven that residents can enjoy for many generations.
Shopping Centers
Paseo Outlets
(0 km – 0 mins)
Arcardia
(0 km – 0 mins)
Laguna Central
(0 km – 0 mins)
Vista Mall
(600 m – 5 mins)
Ayala Malls Solenad
(1.42 km – 10 mins)
Solenad 2
(1.5 km – 10 mins)
Schools
Ateneo Graduate School of Business
(0 km – 0 mins)
Acacia Waldorf School
(2.5 km – 10 mins)
Hospitals
The Medical City South Luzon
(0 km – 0 mins)
China Bank-Sta. Rosa Hospital
(5.5km – 20 mins)
Asian Hospital
(18 km – 30 mins)
Golf Courses
Ayala Greenfield Golf & Leisure Club
(200 m – 5 mins)
The Country Club
(2 km – 15 mins)
South Forbes Golf Club
(2 km – 15 mins)
Sta. Elena Golf & Country Club
(3.8 km – 20 mins)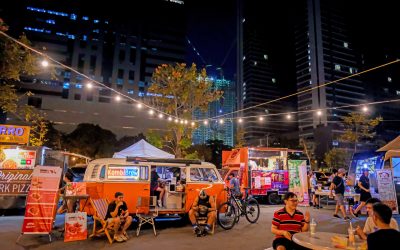 As the Metro goes through the anticipated rainy-to-chilly shift, Greenfield Development Corporation prepared a lineup of exciting seasonal events and experiences that everyone can get together for and enjoy! Celebrate life, culture, and connection, at the sprawling spaces of Greenfield's main meet-up center in Mandaluyong.
read more