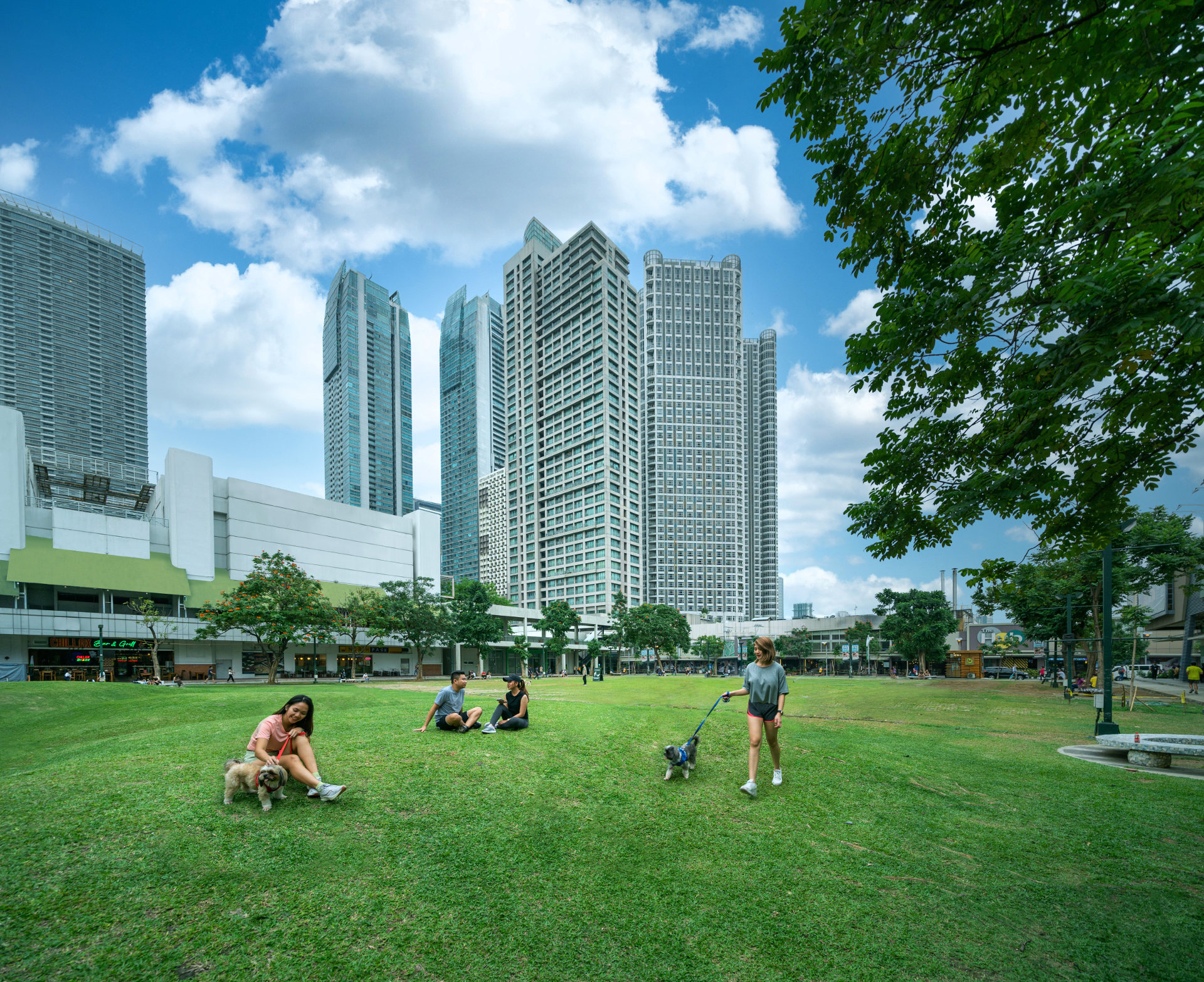 Living in our fast-paced city, life can get so busy that sometimes, it makes you want to sit, breathe deeply, and stare at the stars. Except buildings are blocking the view. You choke on city smoke. Don't get us wrong! Living in this concrete jungle has perks, but sometimes wide open spaces where you can sit amid beautiful nature are just the medicine you need to help you de-stress.
Good thing there are pockets within the metro where we can have this reprieve, especially when you need a break. Greenfield District may be in the middle of one of the busiest cities in the metro (it's in Mandaluyong), but the district has a vast grassy central park surrounded by more open spaces and wide jogger-friendly sidewalks. So when you need to breathe and stare at the stars, come to this place!
Here are things you can do at Greenfield District when you want to de-stress and satisfy the nature-lover in you:
Achieve your fitness goals
If you need open spaces to "fast-walk," jog, run, bike, or even practice tricks on your skateboard or roller skates, here you go! The area is designed to be a walkable city within a city, just ask the several active run groups in the area! And the best part is it has lots of greenery (maybe hence the name Greenfield!) You can also check out sports centers in the area, like Climb Central, an indoor rock-climbing gym for perfect for everyone who's interested in climbing, no matter their skill level.
Let your pets enjoy the outdoors
Your furbabies will also enjoy the open space! If they need to stretch, release "zoomies," or get some exercise, take them to Greenfield District's central park. The Central Park is a go-to play fetch, walk around, and even do some tandem pet yoga. You and your furbabies are sure to enjoy every moment here with all the fun-filled activities.
Reward yourself after work?
If a change of environment in the middle of a tiring workday is what you need to regain your composure, walk over to Greenfield District's Food Truck Fest: A different dining experience at the Mayflower Parking. It's open 4 PM – 10 PM (Mon – Thu), 4 PM – 12 MN (Fri – Sun). Here, you can breathe, relax, and enjoy a nice dinner outdoors to recharge after a hard day's workday or work week.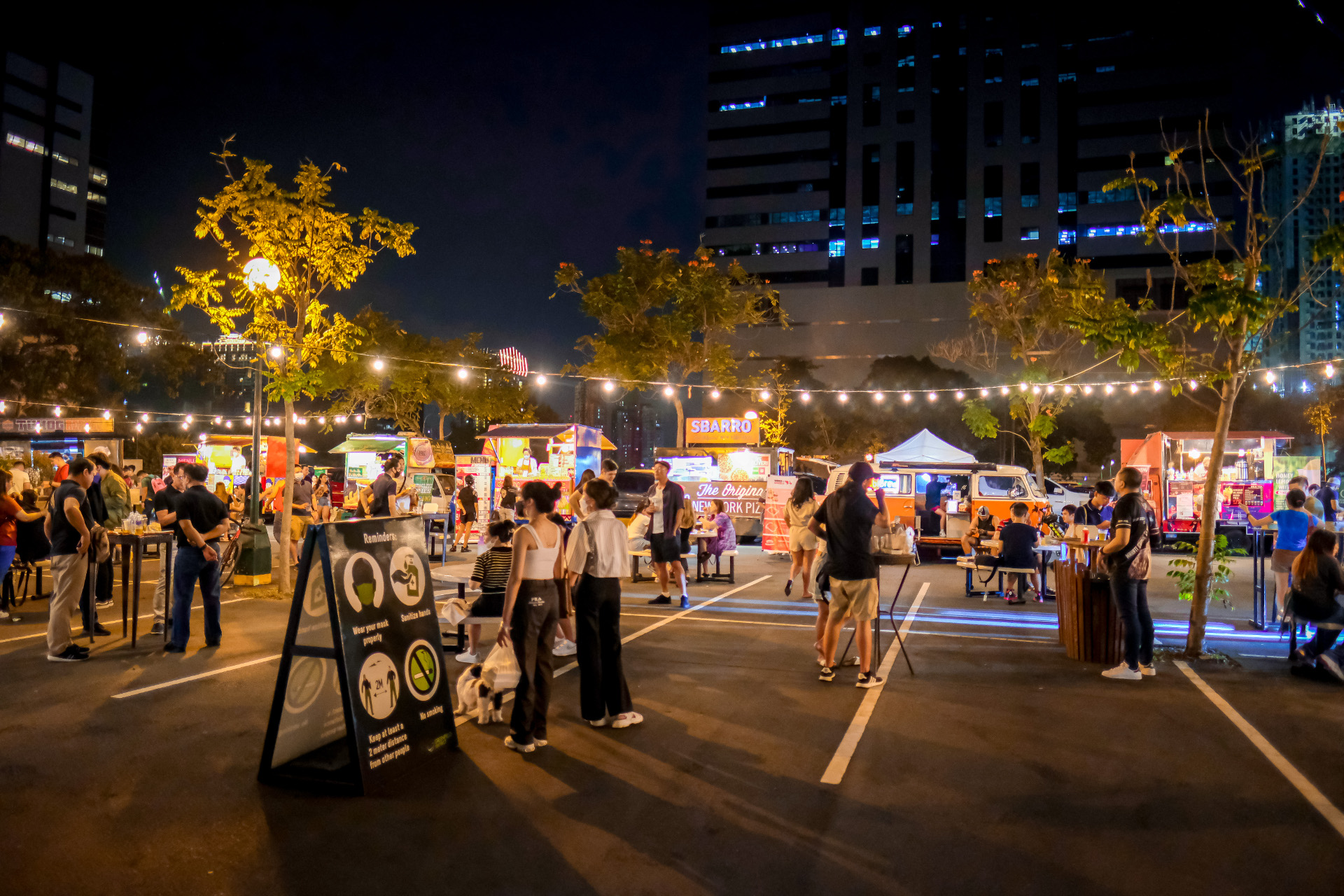 Explore the weekend bazaars with your SO
If you want to do something different from the usual dining out with your SO, take them to Greenfield Weekend Market at the Central Park. Try the food and drinks, score some great finds, and enjoy the music from live gigs while you roam (yup, you may catch live gigs during the weekend market!). The market is open every Saturday and Sunday from 4 PM till 12 MN.
Have quality "me-time" outdoors
Finally, on days when you just need quiet time to ponder about life while staring at the stars, come to Greenfield District Central Park. Lay a picnic blanket there, or find a bench in the area (there are tables and chairs!). You can also stay there to read a book or work while enjoying the open space and maybe a snack at the variety of food finds at "The Portal" and "The Hub," commercial spaces with restos, café, and bars.
Greenfield District is a 15-hectare urban development in the heart of Mandaluyong. It is eco-efficient and offers the perfect balance of urban and rural comforts. Through green open spaces, a central park for events and weekend markets, ample parking, food trucks, and wide sidewalks, Greenfield District helps foster your health and well-being. You can also easily access schools, hospitals, malls, lifestyle centers, and transportation hubs, with interconnected buildings that lead to MRT stations for your convenience.
Visit Greenfield District to experience it for yourself!

Source: https://www.spot.ph/things-to-do/5-activities-in-metro-manila-nature-lovers-will-appreciate-adv-con?utm_source=Facebook-Spot&utm_medium=Ownshare