The Future-Ready District
No other place is as forward-looking as Greenfield District. This 15-hectare urban development wasn't just built for businesses and urban dwellers. It was also built for the visions and possibilities people bring along with them. It has technologically advanced infrastructures with an eco-efficient masterplan. Retail and commercial establishments can blaze new trails and forge new futures here at Greenfield District.
The Heart of Mandaluyong
Situated at the center of the new Mandaluyong CBD, Greenfield District is easily accessible to other businesses, schools, hospitals, malls, lifestyle centers and transportation. Buildings are also interconnected and lead to MRT stations. It's a perfect investment for any potential buyer.
Designed for a Healthy and Sustainable Future
Everything is designed with the future in mind. Buildings are technologically interconnected with a fiber-optic framework. Along with these ultra-modern high-rise buildings, the community is helping further redefine Mandaluyong with green open spaces and a central park for events and weekend markets. It also has ample parking and wide sidewalks built for joggers. Every detail created for your health and well-being.
The Future Begins Here
Thousands of people come in and out this area each day. That's why every spot in Greenfield District is a prime spot to invest in. It has a wide range of locations that cater to your various needs.
Urban dwellers will also find ideal, future-ready homes in the development. The Twin Oaks Place is Greenfield District's flagship condominium project, where every unit is integrated with fiber-optic connectivity that enables features such as smartphone-controlled home automation. Meanwhile, Zitan, another fiber-to- the-home condominium development, is particularly designed to be transit-oriented as it is linked to the Shaw Boulevard station of the MRT along EDSA.
Aside from attracting residents, employment opportunities will likewise increase in Mandaluyong because of the masterplan's office developments, such as the Greenfield Tower, The Square, among others.
Greenfield District's retail spaces are being redeveloped into modern, convenient and efficient lifestyle centers such as The Hub and The Portal. Its well-selected variety of restaurants, bars and cafés serve the emerging lunch and after-office crowd of employees and executives from within the vicinity of office buildings.
Indulge and relax with family and friends
Release some happy hormones as you explore the Weekend Market located at the Greenfield District Central Park. Open every Saturday and Sunday from 4 pm – 12 am, the Greenfield Weekend Market at Greenfield District Central Park is consistently among the top weekend market destinations in Metro Manila. Don't forget to enjoy good food and appreciate art and music as you roam around the market.
Greenfield District's Food Truck Fest, an exciting new twist to the usual dining experience. Open from Monday to Thursday from 12 pm until 10pm and Friday to Sunday from 12 pm until 12 midnight, this outdoor destination is located at the Mayflower Parking, a wide, open parking space. With a good mix of select food trucks, this is a perfect set-up for an enjoyable yet safe al fresco dining in the new normal.
Greenfield District is accessible to locations such as BGC, Ortigas, and Makati. Present and future projects such as the BGC bridge, Pasig River Expressway, etc. will also make travel to and from these locations even easier.
Bordered by the main thoroughfares EDSA and Shaw Boulevard, and stretching towards Reliance Street and Sheridan Street, the 15-hectare Greenfield District sits at the heart of the new Mandaluyong CBD, making it conveniently located near central business districts, schools, hospitals, malls and lifestyle centers.
Designed to give a truly distinctive brand of city lifestyle, the masterplanned development is known as a "smart and connected" urban center with buildings technologically interconnected with a fiber-optic framework. Along with these ultra-modern high-rise buildings, the community is further redefining the Mandaluyong landscape with sweeping, green open spaces that comprise a generous portion of the development, and further enhanced by a pedestrian-oriented neighborhood.
Shopping Centers
The Hub
(0 km – 0 mins)
The Portal
(0 km – 0 mins)
Pavilion
(0 km – 0 mins)
Shangri-La Plaza
(55 m – 2 mins)
SM Megamall
(350 m – 10 mins)
The Podium
(720 m – 15 mins)
Ayala Malls The 30th
(900m – 15 mins)
Capitol Commons
(980m – 15 mins)
Robinson's Galleria
(1.43 km – 15 mins)
Rockwell Center
(2.52km – 25 mins)
Greenhills Shopping Center
(2.62 km – 25 mins)
Ayala Center
(4.26 km – 30 mins)
Schools
Lourdes School of Mandaluyong
(270 m – 5 mins)
University of Asia and the Pacific
(600 m – 10 mins)
St. Paul College Pasig
(1.3 km – 15 mins)
St. Pedro Poveda College
(1.25 km – 15 mins)
La Salle Greenhills
(1.85 km – 20 mins)
Domuschola International School
(2.64 km – 25 mins)
Immaculate Concepcion Academy
(2.91 km – 25 mins)
Xavier School
(3km – 25 mins)
Hospitals
VRP Medical Center
(250 m – 5 mins)
The Medical City
(2 km – 20 mins)
Cardinal Santos Medical Cente
(2.31 km – 20 mins)
St. Luke's Medical Center BGC
(2.5 km – 25 mins)
Central Business Districts
Ortigas Center
(200 m – 5 mins)
Bonifacio Global City
(2.3 km – 25 mins)
East Wood City
(4 km – 30 mins)
Makati Business District
(4.26 km – 30 mins)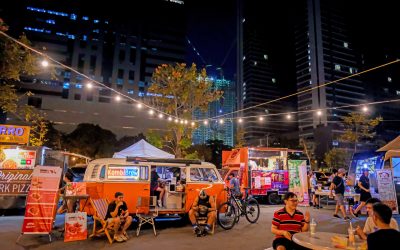 As the Metro goes through the anticipated rainy-to-chilly shift, Greenfield Development Corporation prepared a lineup of exciting seasonal events and experiences that everyone can get together for and enjoy! Celebrate life, culture, and connection, at the sprawling spaces of Greenfield's main meet-up center in Mandaluyong.
read more