A decade ago, having an Internet connection at home is already considered a "high-tech" amenity.  Only a few homes have a fast Internet connection that is the envy of the entire neighborhood.  Aside from the Internet, a home is considered 'high-tech' if a gate or door opens at a press of a button or if a television or air conditioner starts when a remote control is directed at it.
But what if all these, plus more features, can now just be controlled over your smartphone via the Internet?  A few slides and tap, all things you want to "happen" inside your home can now be controlled wherever you are – from the temperature of a room, the time a door opens, the direction where a CCTV camera should face, to even as mundane as the moment when a sprinkler should spout water.
Today, it is called a "smart home" and developers – established or new – are now racing to offer these kinds of projects to the Filipino homebuyer who is becoming more discerning and attuned to world trends.
The arrival of smart homes was already foretold decades ago in Hollywood sci-fi movies. Films have featured movie characters who will just lift a finger to enter a secure room, or where his voice will be enough to activate a home appliance.  Today, it is a reality in some developments in Metro Manila.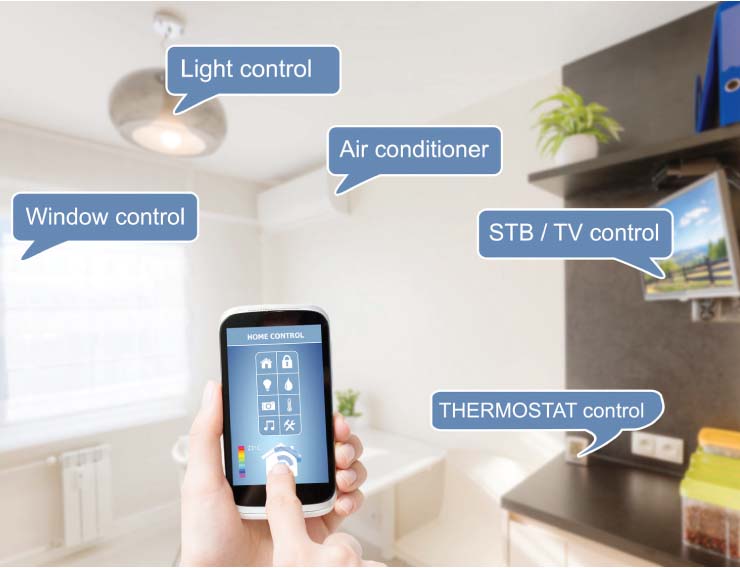 For example, one of the pioneers in the Philippines is Greenfield Development.  Its Twin Oaks Place in Greenfield District in Mandaluyong City is touted as the "first future-ready" home in the country.  For starters, its Internet connection is not only fast but ultra-fast as it has a Fiber-to-the-Home (FTTH) framework which provides each unit with connectivity.  With this feature alone, "modern communications and computer applications can enhance ordinary daily activities."
"Home automation, remote viewing and security controls, lightning-fast data downloads and real-time live streaming of in-demand TV specials" are now a reality for residents of this condo development and a lot of other developers are now setting their sights in offering something similar – or more than technology can come up with.  In fact, a study abroad revealed that 64 percent of millennial home hunters (who comprise the rising number of condo dwellers) are now putting smart home technologies at a higher importance other than other home features.
According to an article released by Greenfield, its project showed that "21st century digital living is no longer the stuff of fantasy but a practical and useful reality that residents are now experiencing. It will soon be the norm rather than the exception."
"The digital experience begins with an internet protocol (IP) phone that is standard in each unit. These devices allow residents to view and confirm the identity of visitors in the lobby via the IP phone screen. The main entrance door of each unit is also fitted with electronic locks, which is programmed and operated with push-button numerical combinations—spelling convenience, and enhanced security for residents.
With the use of smartphone applications and home automation equipment, a resident can even operate appliances, gadgets and mechanisms inside the unit without even being physically present. Lighting fixtures can be programmed to conserve energy; airconditioning can be turned on prior to entering the unit; and the entrance door can even be remotely unlocked to allow entry of authorized guests. Internet cameras can also be installed for real-time monitoring of the unit."
The smart home promises a futuristic home experience where everything you need is just a simple voice command away, even when you're far from home.  Now, will this become a norm – or still an exception – among developers selling their homes in 2018?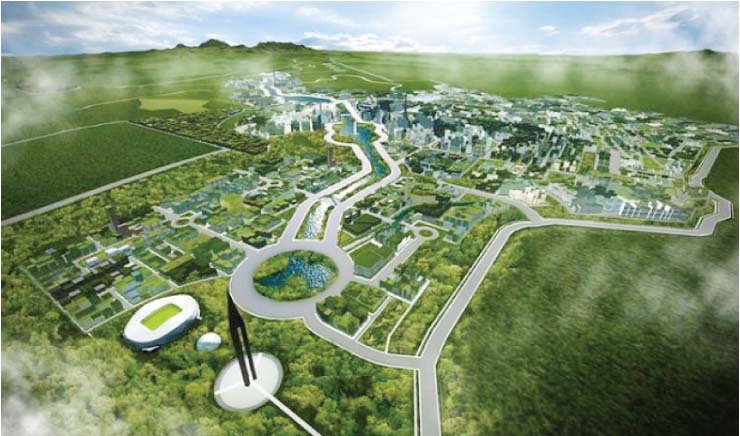 Artist's perspective of the aerial view of the future Clark Green City.
Massive scale
If the concept of a smart home is gaining more traction among Filipinos in year 2017, the emergence of smart cities is a looming reality as big-time developers have these kinds of projects in their pipelines.  There can be no stopping them from creating these smart cities as it is a natural progression and a practical option considering that our resources are finite.
In broad terms, a smart city is one that is "a developed urban area that is sustainable, offers high-quality living to its residents, has world-class infrastructure, and more importantly, one that harnesses efficient technology." Add to that, some would also define a smart city as one that is "governed efficiently, has an effective transportation system and traffic management, and offers venues for recreation, healing and wellbeing."
A smart city is not only determined by size.  Even a small community in this cramped metropolis of Metro Manila can become a smart city (one example would be Greenfield District in Mandaluyong and the Filinvest City in Alabang).  But considering the massive amount of technology that must be placed and the infrastructure work needed to be done, a lot of developers have set their sights outside the metro.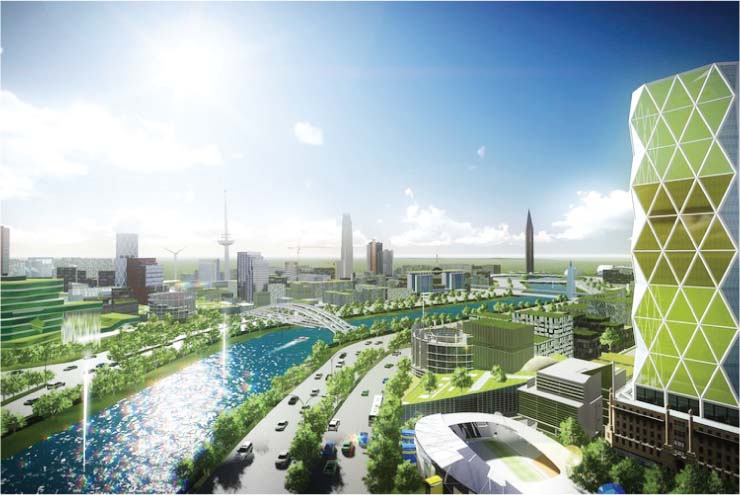 Another view of the city center where businesses will thrive and co-exist with green spaces.
A lot of the developers are looking up north, specifically in Bulacan and Pampanga where huge tracks of land are now developed to become cities of the future.  One of the most anticipated projects is the Clark Green City spearheaded by the Bases Conversion and Development Authority (BCDA) together with other developers such as Filinvest Land, which is dubbed not only as a smart city but also a disaster-resilient one.
According to a statement, Clark Green City will utilize "advanced technology solutions and it will be seamlessly integrated in the development.  An underground utility corridor will house major utility lines for better installation, management, upgrading, and protection from disasters such as flooding and earthquake. Meanwhile, an integrated operations center will coordinate all utility operations and facilitate remote management of various city operations, where reliable telecommunications facilities and internet everywhere will keep it connected to the rest of the world."
As a smart city, everything that one will need will be available (or will be just a walk away) to encourage everyone to cut down on carbon footprint.  In fact, Clark Green City will have buildings ready for BPO companies, schools, sports facilities, parks, among others to promote a well-rounded lifestyle.
At this point, several developers are building massive projects that will shape future smart cities.  For example, developer Ayala Land is banking on its 200-hectare Kawit, Cavite project dubbed "Evo City" to become the next central business district of the South.
"The estate is envisioned to offer smart and efficient designs with multiple and interconnected services such as traffic management, public transport, emergency services and security systems managed through an integrated operations center," according to a statement.
Other big name developers such as Megaworld, Sta. Lucia, DMCI Homes, Federal Land, etc. have projects outside the metro, even as far as Mindanao, that aim to show the world that the Philippines is ready to host smart cities that are not only sustainable but livable as well.
Rappler > By Johannes L. Chua