Metro Manila offers endless activities to its residents and visitors. With the large presence of shopping malls, sports venues, bars, and restaurants, it's hard to run-out of ways to indulge in city life. This can be fun, but it also takes its toll.
This is where weekend markets come in. Slowly but surely, they have begun to blossom all around the city, each one with unique qualities that cater to different wants and needs.
Here's a list of 4 weekend markets I visited, plus another one Rappler recently visisted, which may give you a clearer idea of where to go in order to find the experience you're looking for:
Update: Mercato Centrale has now moved to a new location at the corner of 7th Avenue and 25th street, Bonifacio Global City, Taguig. Visit Friday and Saturday from 6pm to 3am.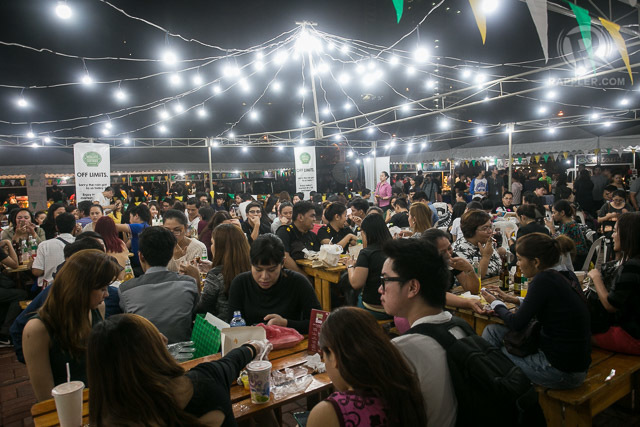 25th Street. and 7th Ave. Bonifacio Global City
6pm to 3am, Fri & Sat
Approximately P200 – P300 / head
While it is traditional favorites, such as: Filipino street food, chicken wings, burgers, and desserts that are abundant here, you just might be pleased by their clever and innovative execution.
Try the takoyaki balls from JD's Takoyaki, P70 for 4: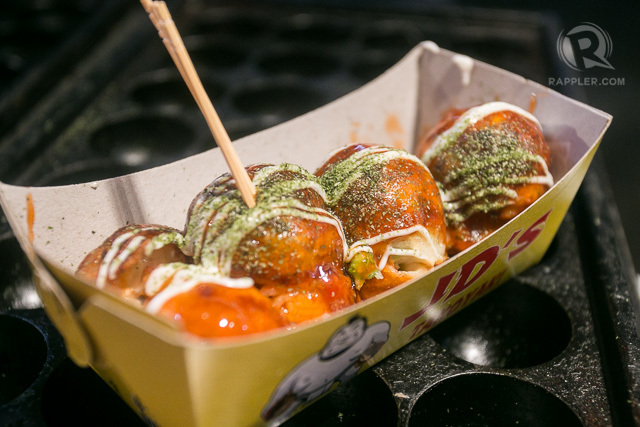 Or get your Mexian food fix from Olvera's.
Lengua burrito, P150.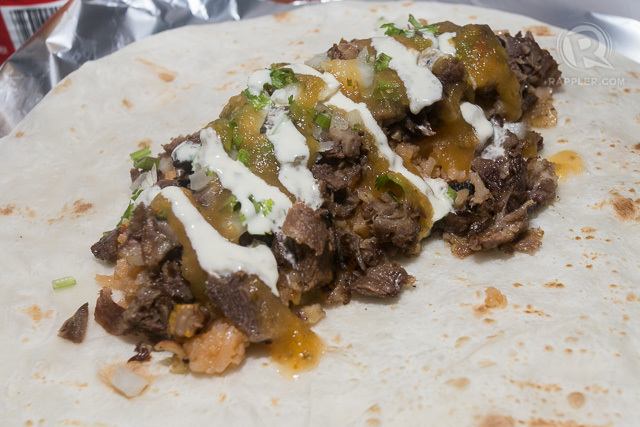 Click here for more things to try.
Address:Elizalde Park, 37 Pilar Banzon St., BF Homes, Paranaque
Hours: 7am to 2pm
Visit Falaco Tacos for the "toffeedilla," a dessert "toffee quesadilla," which you can get with a pair of tacos for P160.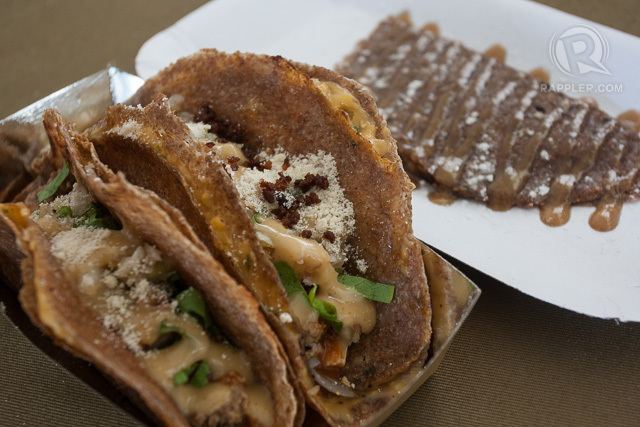 JJ's chorizo paella and callos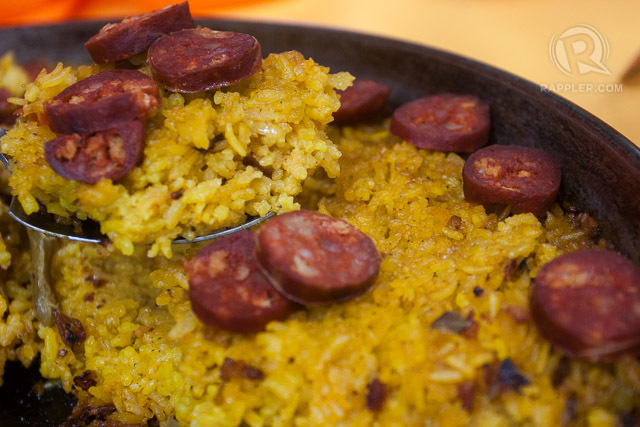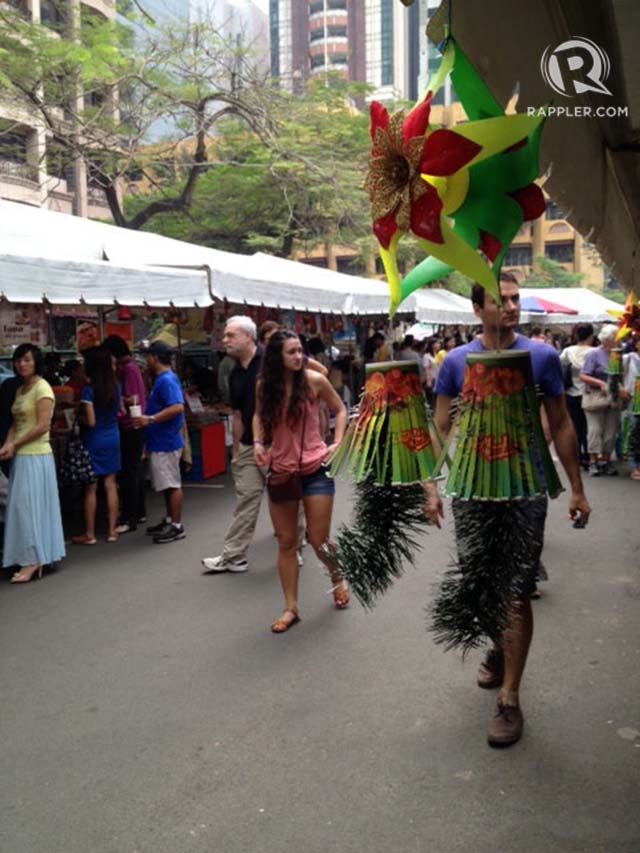 Salcedo Park bet. LP Leviste and Tordesillas St. Makati
7am – 2pm, Sat
Approximately P250 – P350 / head
One of markets with more selections, the Salcedo Market goes beyond the usual weekend market favorites.
From casual snacks to those made from heirloom recipes, all the way to beautifully assembled arts and crafts, this venue showcases its abundance in talent and creativity.
With a relatively classy dining area set-up with large round tables at the centre and the Jaime Velasquez Park right beside, this market provides a sense of romance which is popular among couples and families looking to spice up their weekend routine.
A slice of the Quiche Tomate-Basilic (Tomato-Basil Quiche) which sold for P250 at La Cuisine Francaise seemed perfect for a sunny Saturday morning.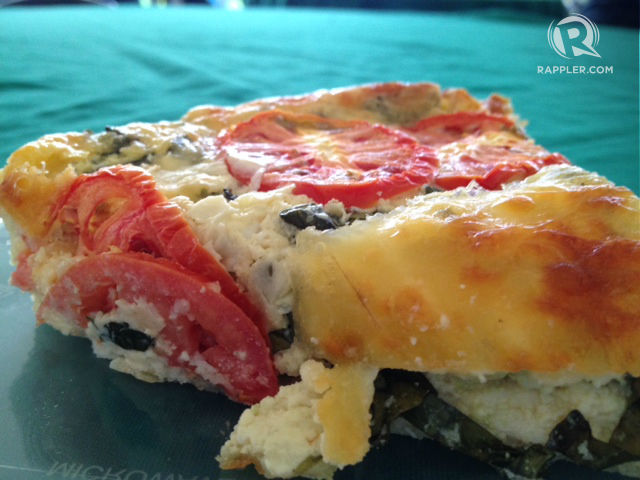 The Breadery offered several products, which included: Olive Cheese Buns, Cali Blue Berry Buns, Truffle Buns, and Hazelnut Buns, my personal favorite.
These come in packs of 5, selling for P160. Ideally enjoyed as a light breakfast perhaps with a cup of coffee, the bun was soft and tasty with a generous filling of creamy hazelnut chocolate.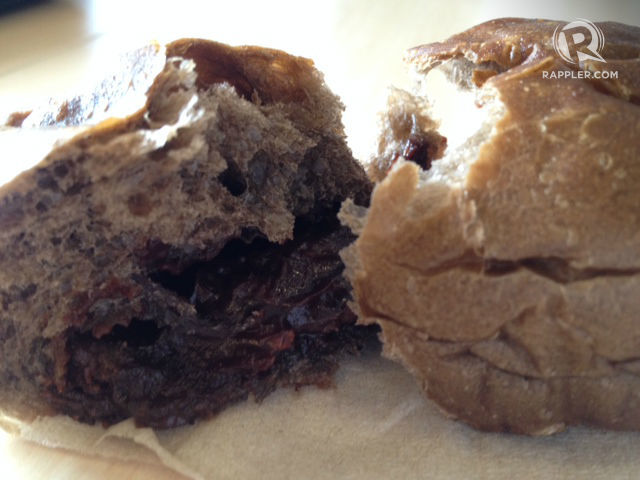 The aroma of classic dishes such as Callos and Salpicao being heated on Chef Bambi's Comfort Food's trays may remind you of being in the kitchen and watching your mother cooking her famous specialty. A decent serving of Beef Salpicao sells for P200 and is well worth it. It was very tender and rich in flavour with just the right amount of garlic.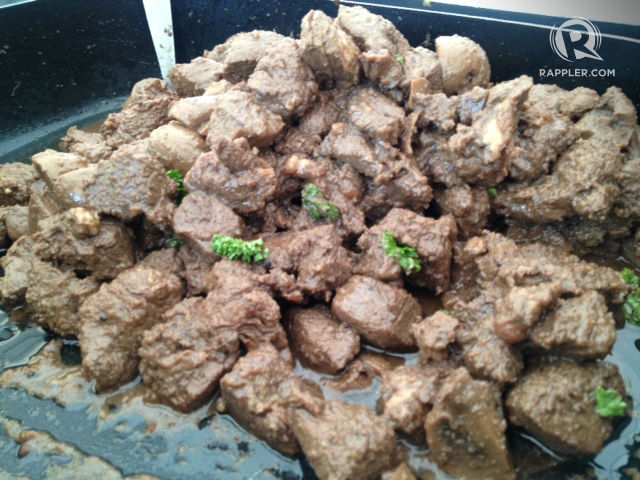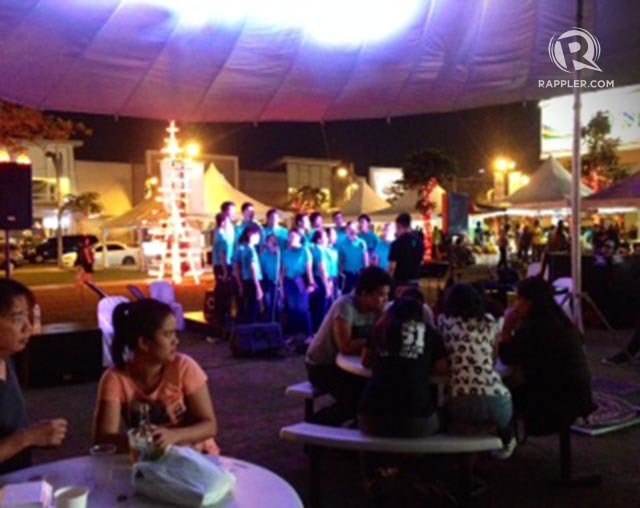 4pm – 12mn, Sat
Approximately P150 – P250 / Head
Beautifully set up at the Greenfield open park, the Greenfield Market features live music and lots of booths which sell arts and crafts, fashion items, and other things, to provide much entertainment and reason to visit.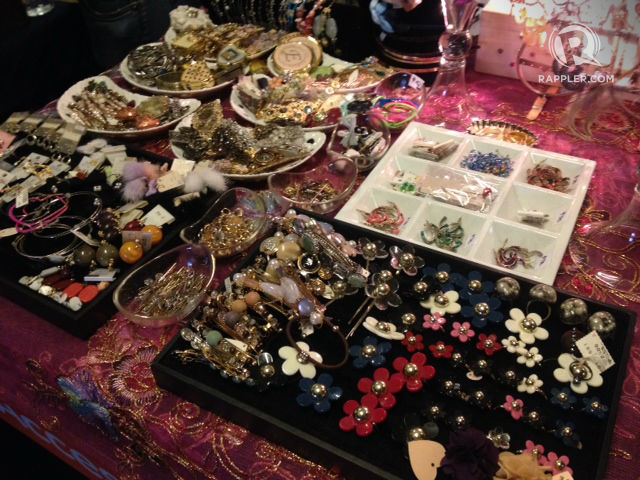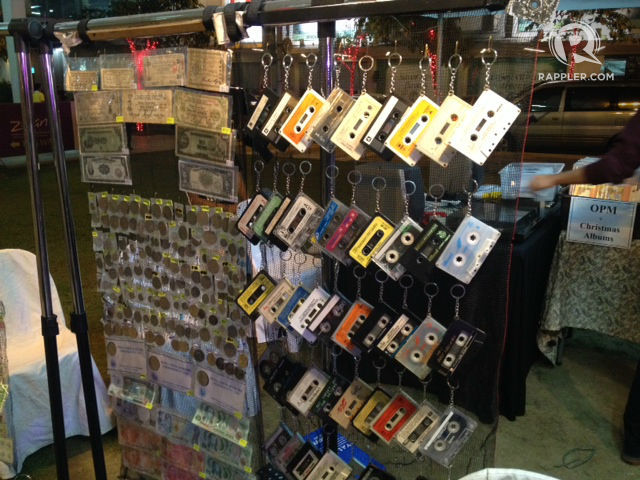 K-Fry's Sweet Chilli Soy Garlic Korean Fried Chicken, also known as Takanjong, paired with Japchae was a hearty treat for only P160.
The chicken was tasty and crispy, as the Japchae side held its own adding value to the restaurant quality meal.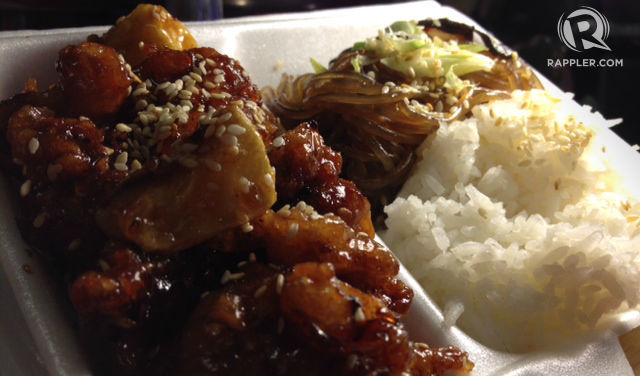 At P90 for 100g, The Apple Treat's S'mores Cookies were perfect to munch on while walking around the area and checking the stores out.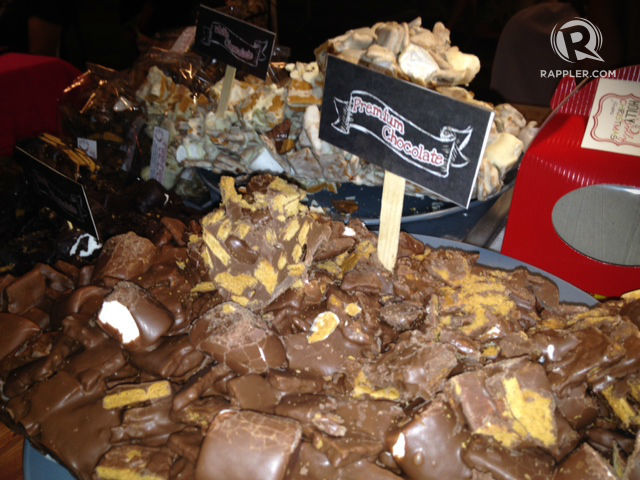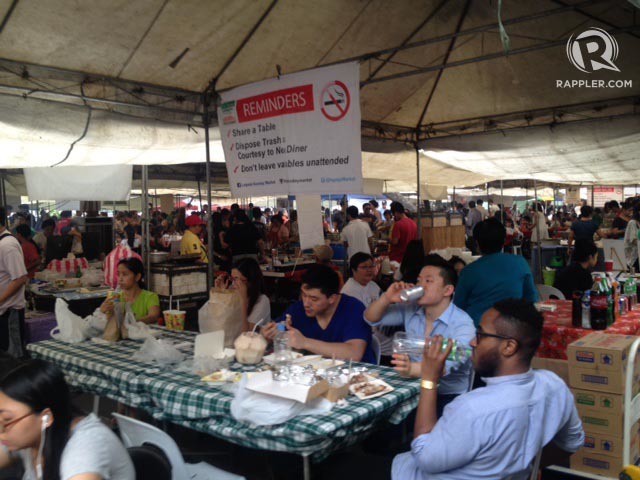 Corner of Rufino and Legazpi St., Legazpi Village, Makati
7am – 2pm, Sun
Approximately P250 – P350 / head
The festive energy at the Legazpi Market provides a nice alternative to the usual wild night out with your friends. Similar to the Salcedo Market, the former offers a rather large selection of treats as well as arts and crafts, but is a little more busy and playful with its endeavours.
The buzz at the Leaf Kitchen Raw Food Grocer fired up my curiosity to try their Vegan Lasagna, which sold for P250. The cool and light side salad complemented the heavy dish.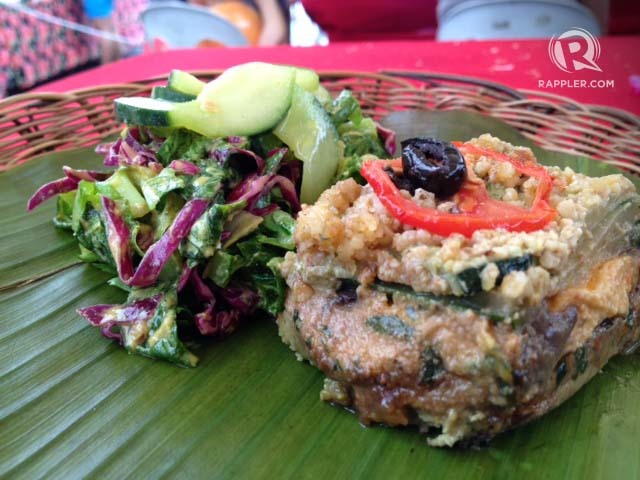 Next-up was the Mee Goreng of Asian Hawker Noodles. Prepared right before you, the experience of this dish would begins before you taste it, with the combination of vibrant colors and the appetizing scents filling the air.
It was very reasonably priced at P150.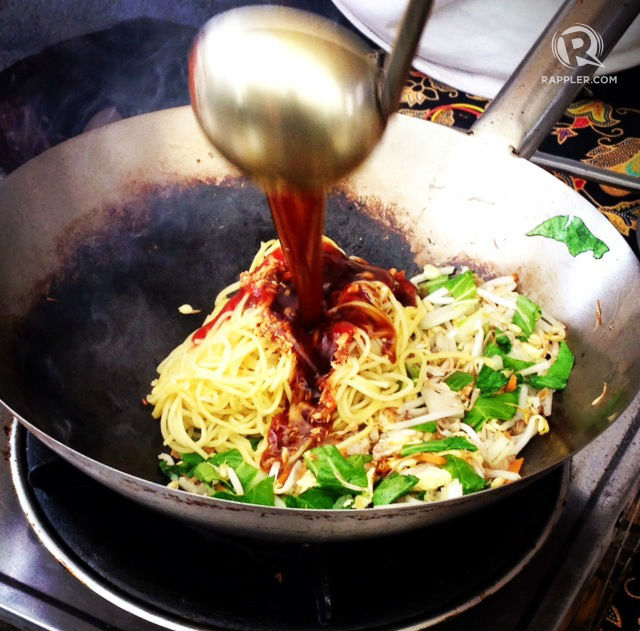 Share your favorite eats with us in the comments below!
Photo by Carlo Cruz unless otherwise indicated. Other photos by Manman Dejeto/Rappler
– with reports from Manman Dejeto/Rappler.com