Greenfield Development Corp. (GDC) marked two milestones recently after the company topped off two new towers within Greenfield District – Greenfield Tower, a high-rise office building targeted toward BPO locators in the city, and the East Tower of Twin Oaks Place, the only future-ready home in the Philippines that's equipped with fiber-to-the-home technology.
Greenfield District, considered as the new city center in Mandaluyong City that offers a balance of urban comfort, nature-rich city living and state-of-the-art buildings, sees the topping off as a vital step towards fulfilling the company's masterplan promise of a unique environment where wide open spaces co-exist with innovative technology.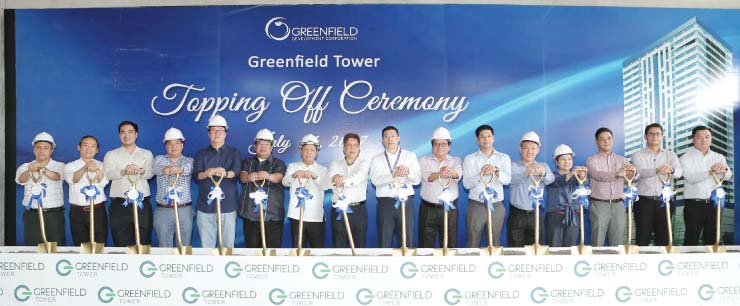 Executives of GDC led by its chairman, Jeffrey Campos (center) and Atty. Duane A.X. Santos (6th from right), during the topping off of Greenfield Tower.
Atty. Duane A.X. Santos, GM and EVP of GDC, explained that the company has embarked on the development of Greenfield Tower to be able to cater to the needs of BPO clients.
"We are confident of the continued exponential growth of the Philippine BPO industry," he said, "We are committed to provide only the best features and amenities for our locators who are discerning multinational BPO companies."
The topping off ceremony for the East Tower of Twin Oaks Place is also considered a milestone for GDC as it tops off another high-rise, premium condominium.
"It helps reinforce Greenfield's promise to provide communities that will remain relevant throughout the years to come," Atty. Santos added.
Greenfield Tower, which is located along Mayflower St., boasts of unique advantages. First is the office building's proximity to major thoroughfares such as EDSA and Shaw Boulevard, and accessibility to mass transport systems like buses, jeepneys and the MRT.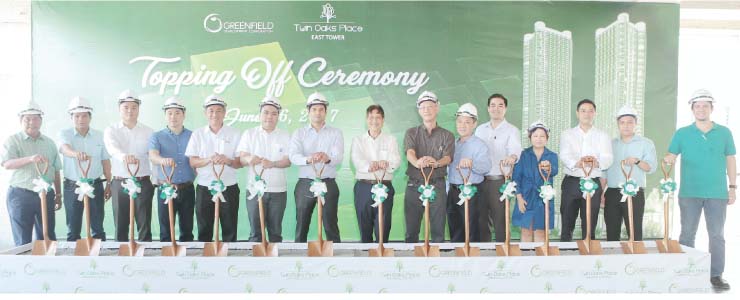 Campos (center) and Atty. Santos (7th from left), during the topping off of the East Tower.
"Another plus factor is Mandaluyong City's elevation, which is approximately 40 meters or about 10 stories higher than that of Makati (the city's highest elevation is 67 meters while Makati's is only 15 meters). Locators at Greenfield District have not experienced any downtime because of this even during typhoons," said Santos.
The wide array of restaurants, shops, convenience stores, and service centers within Greenfield District also make the Greenfield Tower a vibrant workplace.
As its masterplan is brought to reality, office developments such as Greenfield Tower stand to benefit from its high-speed connectivity and will spell a boon for BPO locators who rely heavily on fast and dependable internet connection.
According to Santos, the Greenfield Tower will also be registered for PEZA accreditation.
As for its residential dwellers, the company also thought of designing future-ready homes that will benefit urban dwellers who have grown accustomed to the benefits of modern technology and the Internet.
"Twin Oaks Place is Greenfield District's flagship condominium project where every unit is integrated with fiber-to-the-home (FTTH) connectivity. This gives unit owners an option to upgrade their units to activate features such as smartphone-controlled home automation, which in turn would allow them to remotely adjust their unit's security settings and room temperature, among other perks," explained Santos.
Residents can also monitor and manage their homes from anywhere through applications which can be downloaded on any mobile phone device. At Twin Oaks Place, high-speed Internet connectivity is positioned as an enabler for the household that wants to be on top of their family needs.