To enhance its status as a premier commercial and residential district, the Campos family-owned Greenfield Development Corp. (GDC) will embark on the massive redevelopment project of its 15-hectare Edsa Central property into a marquee commercial-residential smart central business district (CBD) that will emphasize more greenery and open spaces.
GDC Executive Vice President Duane Alexander X. Santos noted the development road map of Greenfield District CBD will put premium on sustainability in its development agenda and incorporate the lessons that were experienced by haphazardly planned developments in the country. For instance, Santos pointed out that buildings in GDC will have firewalls unlike in other earlier CBDs where safety standards, such as firewalls, were not present.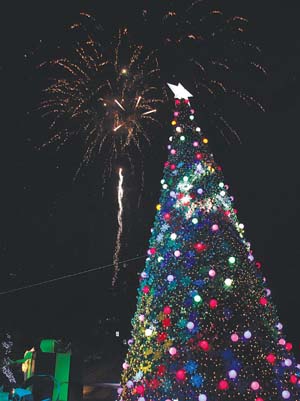 "First, in terms of location, Greenfield has an advantage. A lot of people are moving from Ortigas to here because of the proximity. It is a very hard nowadays to get out of Ortigas or get out of Edsa from Ortigas because of the regular heavy traffic," Santos said in an interview with reporters during the recent at the launch of its annual "A Christmas for Generations."
Since rejuvenating the GDC CBD in 2010, Santos explained that the company has been unswerving in implementing the master plan that puts emphasis on more open spaces, pathways and trees.
To ensure residents will have continuous mobility, Santos said all buildings will be interconnected via a covered walkway on the second floor of each building with easy connection to the Metro Rail Transit.
In response to the digital requirements of the residents, Santos said the Greenfield District will also offer fiber-optic framework to ensure faster Internet connectivity and, at the same time, continue to provide open and green spaces to promote family bonding. Moreover, the Camposes also refrained from allowing any gaming operation in the CBD.
With their adherence to put more open space in the CBD, Greenfield will develop 25 high-rise buildings with a 15-meter distance between each building. Moreover, Santos said all the first three floors of these buildings will be allotted for commercial purposes for the requirements of locators and residents.
So far, GDC has finished three buildings worth P8 billion. These are the 50-story Twin Oaks Tower (P2.5 billion for each tower) and the 34-story Greenfield Grand Tower (P3 billion). Santos said two other buildings are expected to be finished soon.
He added GDC has been attracting corporate headquarters, business-process outsourcing (BPO) companies and condominium buyers with combined household income of P100,000 to P150, 000. "We are targeting the mid- to high-end market," Santos said.
At present, GDC has three big BPO company locators, namely Teleperformance, Sure Solutions and PC Mall.
Santos added that the GDC has also remained conservative, preferring to develop the property on their own and maintain the vacant lots for their own use.
"The wisdom behind this strategy is to ensure that its sustainable plan is maintained and the GDC will not be pressured by minority stakeholders who are also pressed for profit," Santos explained.
"If we lease, sometimes it will pressure us to make decisions based on the minority, who are pressed to deliver profit. So, we just have to do the right thing and not be constrained by minorities. It is not profit all the time, but sustainability," he stressed. Besides, Santos said the Camposes and their partners are not in a hurry to completely build up the 15-hectare property.
Now on its third year, Santos said the annual Christmas Lighting event is inspired by spirit of Filipino holiday tradition that upholds the value, development and spending quality time with whole family. He said the design concept for this year is "multi colored" and reflects the many colorful ways families can live comfortably and thrive in verdant, spacious neighborhoods.