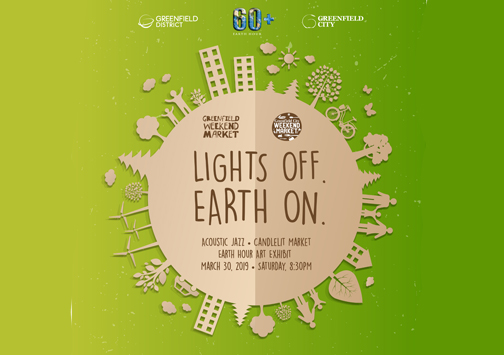 An exciting Earth Hour 2019 awaits as Greenfield Development Corporation teams up with World Wide Fund for Nature Philippines for its campaign against plastic, dubbed #AyokoNgPlastik.
Two programs will simultaneously take place at Greenfield District, Mandaluyong City and Greenfield City, Sta. Rosa, Laguna starting at 6 PM on March 30.
The events will feature the unveiling of the exhibit of Harryn Torres, Arman Guitering, Lloyd Lusica, and Jet Bernal on art and sustainability, where contemporary paintings, drawings, and artworks in mixed media expressing the theme will be displated.
Some Earth Hour mementos and non-plastic merchandise will also be available during the event.
Moreover, participants will have the chance to show their support through a Commitment Board. But instead of single-use paper and post-its, WWF and Greenfield Development Corporation will use glow-in-the-dark paint and pens on a black board to avoid a carbon footprint.
An acoustic band is also slated to perform during the celebration.
At Greenfield District, Melody Melo-Rijk, Manager of The Sustainable Diner Project from WWF Philippines, will discuss plastic waste management and its role in helping ease environmental degradation, as the District plans to launch its sustainability awareness campaign.
"Greenfield Development Corporation is a company that takes action towards environmental sustainability, and we're really eager to do so in a way that everybody will enjoy," said lawyer Duane AX Santos, General Manager of Greenfield Development Corporation.
Attendees are encouraged to bring their own utensils such as metal straws, tumblers or food canisters to lessen wastage.
On March 30, head on over to Greenfield District in Mandaluyong City and Greenfield City in Sta. Rosa, Laguna to enjoy a night of art, learning, and fun while being a part of a global effort to save the environment.
Read More: http://manilastandard.net/lgu/ncr/290873/greenfield-wwf-set-ayokongplastik-for-earth-hour-2019.html