It's a whole new world up there!
From stunning surrounding views to being an arm's reach away from everything you'll ever need, living in a high-rise condominium tower is nothing short of amazing!
Here we've lined up our top reasons why living way above may be right for you:
WAKING UP TO A PANORAMA
Who wouldn't love to wake up to a sunrise beyond compare to what others see below? Or be hummed to silence by the view of the setting sun? The stunning panoramas are what people most of the time sign up for in condo living. Whether you live in mid-level or at the penthouse, there's something dramatic about opening your balcony doors to a refreshing sight of the city and simply soak in the beauty of God's creations.
ABUNDANT AIR AND LIGHT
Here's another incomparable plus – living in a high-rise condo usually allows for unobstructed natural light to stream beautifully within your windows into your home. Imagine waking up to vibrant sunlight touching every corner of your aptly decorated bedroom – now, that's definitely one way to start your day positively! What's more, unobstructed buildings allow for fresh air to come through abundantly. Prepare to be lulled to sleep when you hang out at your terrace on a windy day.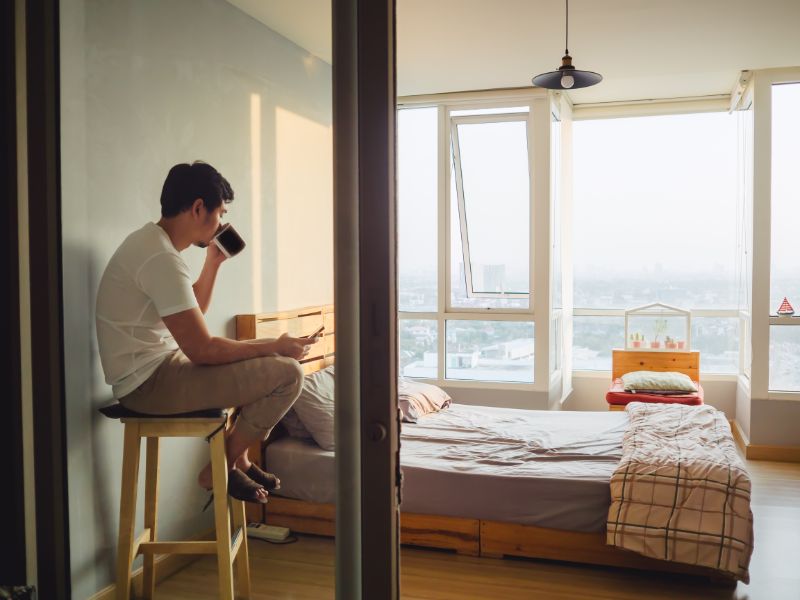 ALL WITHIN REACH
Most of the time, high-rise towers are propped up on prime real estate in the city – within a masterplanned community. This means that you are steps away from all the conveniences of urban living – from that cozy coffee shop down the street to the swank wine bar with al fresco setting, or even simple conveniences like a 24/7 mini mart, a delightful spa and more.
For the smart ones, living in a high-rise building also means being a walk away from your office or even major modes of public transportation. There are a lot of residential towers built within CBDs nowadays, allowing office workers who before need to travel 2-4 hours or longer going home (what with the Metro Manila traffic), to now arrive within minutes at their condo and enjoy more quality time with their family.
A QUIET PLACE
It would be the best thing for you to live in a high-rise condo if you just can't deal with noise pollution. You'll be way up high, far away from all the street commotion. Coming home will be like going inside a relaxed and peaceful environment.
ACCESS TO AMENITIES
As a resident, you'll definitely get first dibs on that IG-worthy pool, the world-class gym, picturesque party areas and more. Plus, you don't even need to worry about maintaining it as the property conceirge will do it all for you.
SECURITY
You can now put your mind at ease. High-rise towers provide a professional 24/7 securty service. Therefore you can rest easy knowing you'll be paged first before anyone ever goes up your place. Your receptionist can receive packages for you or even help you hail a cab if needed.
Do you want to reap in the benefits of high-rise living? Check out our condominium developments at Greenfield District and Greenfield City.